The Antiparos North, Diplo & Kavouras Islets Aqua Hike
September 19 @ 09:30

-

14:30

€ 35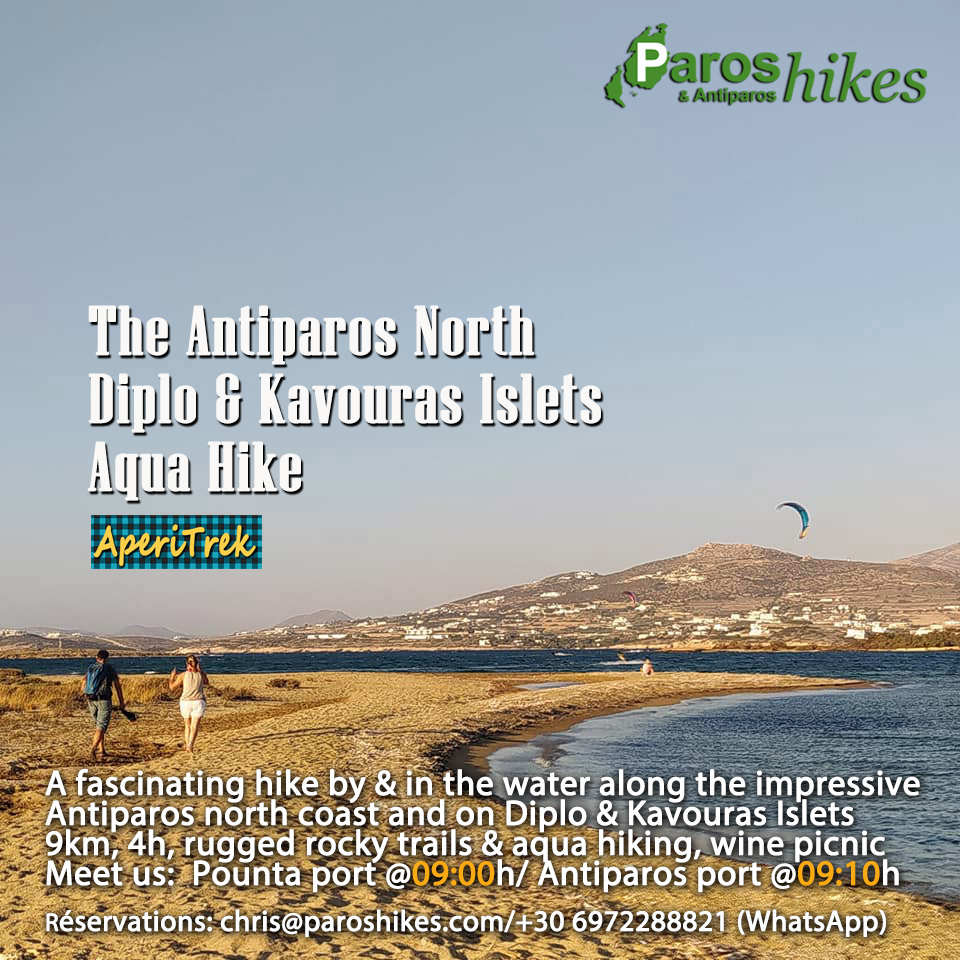 Rando Aquatique Antiparos Nord – Îlots de Diplo & Kavouras de Despotiko
[EN] Join us on a unique, easy to moderate difficulty hike along the rugged coastline of Antiparos, as well as on the uninhabited islets of Diplo & Kavouras just off the northern shores! We will start from the port of Pounta wher we'll cross over to Antiparos port to start our walk by the water sometimes walking along sandy beaches or on the coastline and rocky footpaths, enjoying bthe walk and beautiful views over the emerald waters of the northern coast. Then, we'll cross over to the nearby islet of Diplo in the water (5-10 min of aquatic hiking – in swimming swits) and continue to the next islet of Kavouras to reach points of spectacular natural beauty. The walking terrain will be rocky but mostly flat trails ('goat paths') but we will be rewarded with scenic landscapes where land gracefully blends with water, as well as impressive volcanic rock formations and breathtaking views to the surrounding rocky islets & reefs, to the islands of Antiparos, Paros and sifnos, and the open sea! A sea dip at the sandy beach by Antiparos Camping will refresh us on our return to the coast of Antiparos, to be followed by a break for a "Taste of Paros" picnic by the beach with fresh local produce, a cooked dish and Paros wine. The tour will conclude with more spectacular cliffside views, as well as a passage through Antiparos town including a tour of the 13th. c. Venetian fort. Distance 9 km, duration 4h-4h30m, rocky terrain, net elevation +/-30 m.
We will be departing from Pounta Port [ferry departure] @09:00h to start our hike from Antiparos port at 09:10h. Hike price does not include transportation (ferry transfer 1.2€ OW). Reservations necessary – email us: chris@paroshikes.com or call/text us: +306972288821 (Viber/WhatsApp). See you at Pounta!
[
FR
] Rejoignez-nous pour une randonnée unique, de difficulté facile à modérée, le long de la côte accidentée d'Antiparos, ainsi que sur les îlots inhabités de Diplo & Kavouras juste metres au large de la rive nord ! Nous partirons du port de Pounta où nous traverserons le port d'Antiparos pour commencer notre promenade au bord de l'eau en marchant parfois le long des plages de sable fin ou sur le littoral et les sentiers rocheux, profitant de la promenade et de belles vues sur les eaux émeraude du nord côte. Ensuite, nous traverserons l'îlot voisin de Diplo dans l'eau (5-10 min de randonnée aquatique en maillot) et continuerons jusqu'à l'îlot suivant de Kavouras pour atteindre des points d'une beauté naturelle spectaculaire. Le terrain de marche sera constitué de sentiers rocheux mais principalement plats (« sentiers de chèvres »), mais nous serons récompensés par des paysages pittoresques où la terre se mélange gracieusement à l'eau, ainsi que d'impressionnantes formations de roche volcanique et des vues à couper le souffle sur les îlots et récifs rocheux environnants, à les îles d'Antiparos, Paros et Sifnos, et le grand large ! Un bain de mer à la plage de sable par Antiparos Camping nous rafraîchira à notre retour sur la côte d'Antiparos, suivi d'une pause pour un pique-nique "Taste of Paros" au bord de la plage avec des produits frais locaux, un plat cuisiné et du vin de Paros. La randonnée se terminera par des vues plus spectaculaires sur les falaises cotiéres de Antiparos, ainsi qu'un passage dans la ville d'Antiparos, y compris une visite au fort vénitien du 13ème siecle. Distance 9 km, durée 4h-4h30m, terrain mixte, denivélé +/-30 m.
Nous partirons au port de Pounta [départ du ferry] @ 09:00 h. Le prix de la randonnée ne comprend pas le transport (transfert en bateau à Antiparos: 1,2€ aller). Réservations nécessaires: chris@paroshikes.com / +306972288821 (Viber/ WhatsApp). On vous attends à Pounta! [
EL
] Ελάτε μαζί μας σε μια όμορφη πεζοπορία εύκολη έως μέτριας δυσκολίας κατά μήκος της βόρειας ακτογραμμής της Αντιπάρου και περιλαμβάνει και εξερελυνηση των ακατοίκητων νησίδων Διπλό & Κάβουρας μόλις έξω από τη βόρεια ακτή του ηξσιού! Θα ξεκινήσουμε από το λιμάνι της Πούντας όπου θα περάσουμε στο λιμάνι της Αντιπάρου για να ξεκινήσουμε τη βόλτα μας δίπλα στο νερό μερικές φορές περπατώντας κατά μήκος αμμώδεις παραλίες ή στην ακτογραμμή και βραχώδη μονοπάτια, απολαμβάνοντας τον περίπατο και την όμορφη θέα στα σμαραγδένια νερά του βορρά ακτή. Στη συνέχεια, θα περάσουμε στην κοντινή νησίδα Διπλό στο νερό (5-10 λεπτά πεζοπορίας στο νερό – με κολύμπι) και θα συνεχίσουμε στην επόμενη νησίδα Κάβουρα για να φτάσουμε σε σημεία εκπληκτικής φυσικής ομορφιάς. Θα περπατήσουμε σε βραχώδη αλλά κυρίως επίπεδα μονοπάτια («γιδόστρατες») για να ανταμειφθούμε με τοπία όπου η γη τέμνεται από λωρίδες νερού, απόκρημνες ακτές και εντυπωσιακούς ηφαιστειογενείς σχηματισμούς, ενώ θα απολαύσουμε εκπληκτική θέα στις γύρω βραχονησίδες και υφάλους, τα νησιά της Αντιπάρου, της Πάρου και της Σίφνου, και την ανοιχτή θάλασσα! Μια βουτιά στη θάλασσα στην αμμώδη παραλία από το Antiparos Camping θα μας αναζωογονήσει κατά την επιστροφή μας στην ακτή της Αντιπάρου, και θα ακολουθήσει διάλειμμα για ένα πικνίκ "Taste of Paros" δίπλα στην παραλία με τοπικά προϊόντα και κρασί της Πάρου Το Η περιήγηση θα ολοκληρωθεί με πέρασμα από ααπόκρημνα σημεία με εντυπωσιακή θέα καθώς και ένα πέρασμα από την πόλη της Αντιπάρου, συμπεριλαμβανομένης μιας περιήγησης στο Ενετικό κάστρο του 13ου αι. Απόσταση 9 km, διάρκεια 4ω-4ω30λ, βραχώδες έδαφος, καθαρό υψόμετρική διαφορά +/-30 m.
Θα αναχωρήσουμε από το λιμάνι της Πούντας [αναχώρηση με πλοίο] @09: 00h για να ξεκινήσουμε την πεζοπορία μας από το λιμάνι της Αντιπάρου στις 09: 10h. Στην τιμή της περιήγησης δεν συμπεριλαμβάνεται μεταφορά στην Αντίπαρο (φέρρυ-μποτ 1,2€). Κρατήσεις απαραίτητες – στείλτε μας email: chris@paroshikes.com ή καλέστε/στείλτε μας μήνυμα: +306972288821 (Viber/WhatsApp). Ραντεβού στη Πούντα!